---

January 23, 2022
Terry Barber
Audiences continually say, "The best concert of our season - Terry makes classical fun!" With an extraordinarily broad vocal range and natural fluency in many musical styles, countertenor Terry Barber has been featured on some of the world's most storied stages and has worked with many of the music industry's most prestigious figures. If you missed Terry's brilliant concert here in 2017, here's your second chance.
Web Site: https://terrybarber.com/
---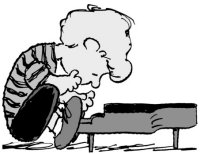 February 13, 2022
Annual Young Musicians Concert
FREE CONCERT!
For 28 years, Music On The Divide has sponsored the Young Musicians Concert, providing Divide music students an opportunity to showcase their talent to a live audience from a public stage. Applications are accepted in December and auditions take place in January, where their performances are evaluated to decide if they are ready to be part of the Young Musicians presentation. Over the years, there have been some delightful and astounding performances by young people who have gone on to become teachers and professional musicians.
---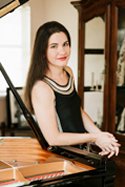 March 20, 2022
Ariadne Antipa
Ariadne is one of our own, growing up right here in Georgetown. She participated in our Young Musicians Concerts for a number of years and won several local scholarships, as well as winning first place in numerous local and regional piano competitions. Ariadne has gone on to pursue a career in music and has continued to excel. She currently enjoys a balance of solo performing, collaboration, and teaching. She has toured the United States and several countries throughout Europe and Africa as a performer and pedagogue. Music On The Divide is delighted to have Ariadne return to our stage to perform for you.
Web Site: https://www.youtube.com/c/ariadneantipa/videos
---
April 24, 2022
Laurie Lewis

Grammy Awardwinning musician Laurie Lewis is internationally renowned as a singer, songwriter, fiddler, bandleader, producer and educator. Laurie has twice been voted "Female Vocalist of the Year " by the International Bluegrass Music Association. Since 1986 Laurie has recorded over 20 albums. Returning to Music on the Divide, Laurie Lewis will be joined by Kentucky fiddler extraordinaire Brandon Godman; accordionist, composer and vocalist Sam Reider; and legendary bluegrass bassist and banjo player Mark Schatz.

Web Site: https://laurielewis.com/
---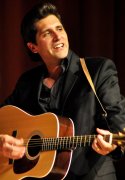 May 22, 2022
James Garner
Gracing our stage for the third time, Music On The Divide is excited to have James Garner back in Georgetown. For the past 16 years, James and his band have faithfully recreated Johnny Cash's biggest hits with stunning accuracy in this not to be missed musical event. The show is a fun, toe-tapping trip down memory lane honoring Cash's life and music, and the boom-chicka-boom sound of his longtime backing band.
Web Site: https://www.cashtribute.net/
---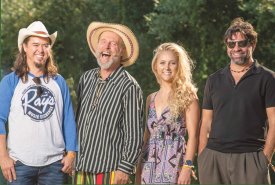 September 11, 2022
Joe Craven & the Sometimers*
There is no label to accurately describe the music of Joe Craven and the Sometimers. Acid- Rockgrass? Jazz Fusion Americana? To try to box it in would be to crush the exuberant creative spirit that happens when Craven, Jonathan Stoyanoff, Bruce MacMillan, Barry Eldridge and Hattie Craven play together. "No genre left behind" is their musical motto, and they accomplish the task with joyful abandon, playing paradigm-shattering free range music that entices and excites. Joe Craven is a creativity educator and prankster savant and, while a multiinstrumentalist proficient with strings and percussion from mando to canjoe to bongo, he is also a eulogist, wordsmith and fashion insultant.
* Outdoor concert at the Georgetown School Amphitheater
Web Site: https://www.joecravenandthesometimers.com/
---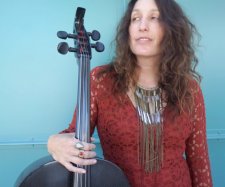 October 23, 2022
Dirty Cello
Almost six years after their first appearance at Music On Th e Divide, Rebecca Roudman and her band will return with more high energy performances that will get your heart thumping and your toes tapping. "The group seamlessly careens from blues to bluegrass and rock in a way that really shouldn't make sense but somehow does." – LA Times
Web Site: https://www.dirtycello.com/
---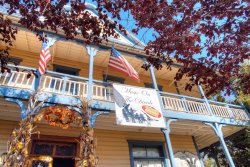 November 6, 2022
MOTD Benefit at the American River Inn
Jason Dubey and the Historic American River Inn will be cohosting the Anniversary Event, celebrating 33 wonderful years of Music On The Divide. The event will feature a special raffle and silent auction to benefit Music On The Divide. Details will be announced at the May concert before our summer break.
Web Site: https://americanriverinn.com/
---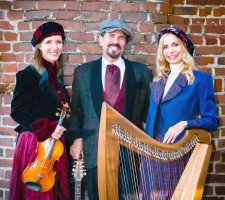 December 11, 2022
Golden Bough
Rooted in the traditional music of the seven Celtic nations (Ireland , Scotland, Wales, Cornwall, The Isle of Man, French Brittany & Spanish Galicia), Golden Bough has become a popular and in-demand group on both sides of the Atlantic. Since their formation in 1980, this trio of modern day minstrels has traveled great distances to numerous countries, to bring their music to enthusiastic folk fans the world over.
Web Site: http://www.goldenboughmusic.com/