---

September 16, 2012
"Septemberfest"
Sierra Nevada Winds
Orchestra
Dr. Robert Halseth, Conductor
The Sierra Nevada Winds Orchestra provides its audiences with high quality performances featuring the finest traditional and contemporary wind ensemble music. Programs are chosen to educate, stir the spirit, and provide emotional gratification for both musicians and listeners.
OUTDOOR CONCERT: Wine tasting at 3:30 P.M. Concert at 4:00 P.M.
VFW Park, Corner of Wentworth Springs and Eaton Road • Georgetown
---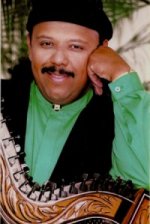 October 14, 2012
Carlos Reyes - Latin
Born in Paraguay, South America, Carlos learned to play many different instruments including guitar, bass, mandolin, and keyboards as well as mastering the use of a variety of electronic devices and special effects.
Carlos made his debut on harp with the Oakland Symphony and his debut on the violin with the Oakland Youth Symphony at just 14 years of age. He has shared the concert stage with Craig Chaquico, The Crusaders, The Rippingtons, Roy Rogers, Charlie Daniels, Wynona Judd, Clint Black, Willie Nelson, John Handy, The Doobie Brothers, and Steve Miller.
Web Site: www.carlosreyesmusic.com

---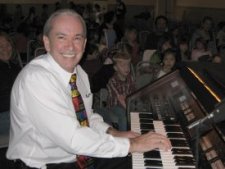 November 6, 2012
Golden Sierra High School
Gregg Isett / Special Student Concert
Gregg Isett, a master at "Theater Organ," will bring several silent films to life during two shows; one for junior high - high schoolers and another for elementary school students. This will be the season's premier student concert.
Web Site: www.silentmovieguy.com
---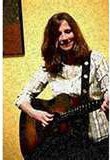 November 11, 2012
Tracy Grammer - Folk
Tracy Grammer rose to acclaim as half
of the "post-modern, mythic acoustic" duo, Dave Carter & Tracy Grammer. The duo last appeared at the I.O.O.F. Hall in Georgetown in 2000 and since then has toured with Joan Baez, both as featured artists and band members. Sadly, Carter died in 2002 leaving Grammer to forge ahead alone. Grammer says, ""Music for me is a language like no other; it is my channel of authenticity. I know I'd only be telling half the truth without it..."
Web Site: www.tracygrammer.com

---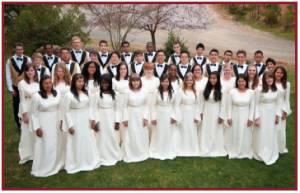 December 9, 2012
Weimar Academy - Choral
Back for a second year, the Weimar Academy's Choir brings together angelic young voices from far and wide to provide audiences with a unique celebration of the Christmas season. Their music program will include traditional Christmas favorites as well as additional selections designed to evoke a sense of seasonal joy. This is a wonderful opportunity to "get into the holiday spirit" with these talented young singers and musicians.
---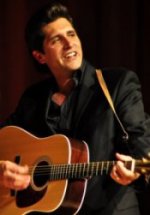 January 13, 2013
James Garner's Cash Tribute - Country
A classy and authentic production, The Cash Tribute Show featuring James Garner, honors the life and music of the legendary 'Man in Black'—Johnny Cash. It is with strong conviction and stunning accuracy that Garner and his band perform Cash's music, combining it with historical accounts and personal anecdotes about America's most beloved singing storyteller. The show is a fun, toe-tapping trip down memory lane honoring Cash's life and the sound of his longtime backup band, the Tennessee Three.
Web Site: www.cashtribute.net
---

February 10, 2013
YOUNG MUSICIANS CONCERT FREE!
FREE CONCERT!
This is a rare opportunity to witness the musical talent of youth from the Georgetown Divide who range in age from 6 to 22 and play a variety of instruments including piano, violin, french horn, and more. Music they perform includes classical, jazz, folk, and pop. Each piece is played with youthful enthusiasm and a passion for the performing arts. The only award they receive for their efforts is audience appreciation, a medal, and a certificate of participation from Music On The Divide.
---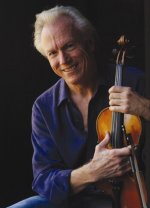 March 17, 2013
Tom Rigney & Flambeau - Irish Cajun
Tom Rigney and Flambeau specialize in fiery Cajun and zydeco two-steps, low-down blues, funky New Orleans grooves, and heartbreakingly beautiful ballads and waltzes. Their high energy live show features tight ensemble playing, deeply infectious grooves, and spectacular soloing. Most of the repertoire is composed by Rigney, but they also mix in a few classics from the Cajun/zydeco/New Orleans songbook. And if, along the way, you pick up a trace of Rigney's Irish roots, or a little Swing from his roots in Rock and Roll, it just makes the musical gumbo that much tastier.
Web Site: www.tomrigney.com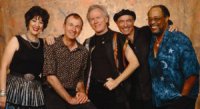 ---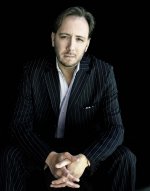 April 7, 2013
Thomas Pandolfi - Classical Piano
Thomas Pandolfi is an exciting virtuoso whose orchestral appearances often feature not only the beloved masterpiece concerti by Tchaikovsky, Rachmaninov and Liszt, but also the equally brilliant ones by Paderewski, Rubinstein and Moszkowski. Additionally in the "Pops" genre, Thomas is considered a leading interpreter of the works of George Gershwin.
Web Site www.thomaspandolfi.com

---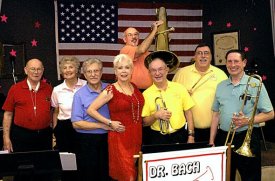 May 19, 2013
Season Finalé and Gala
Dr. Bach & The Jazz Practitioners - Variety
This is an ultra-high-energy group of talented and experienced musicians who show their enjoyment while playing Dixieland, Swing, Dance, Blues, and Gospel. They perform with eight musicians whose motto is: "We make a Party". They are definitely tuned-in to playing FOR the audience, making them one of the most popular bands in the Sacramento area.
Web Site: www.drbachjazz.blogspot.com
---